A Justin Bieber Piano tutorial. Who'd ever thought I'd end up making one of those? Not me. I can tell you that much.
What I can also tell you, is that it very likely won't be the last, 'cause like so many others I'm officially converted and from the hater I once was, I too am now a Belieber. Ok maybe that's a little bit of an overstatement, but holy cow, this guy has been putting out some seriously dope shit lately.
Making his re-entrance back into the music-publication spotlights with the first pre-release from his new (November 2015) album "Purpose" (that, for the record I must add still holds a fair share of absolute horror-shows of pop-gutter trash; sorry fans, it's not all roses), the Skrillex and Diplo collaboration track "Where are Ü now?" Justin seemed to immediately set a firm step in winning over hearts from previous non-fans. That already included me to some extent, I'm afraid. Still one of my favorite tracks in that genre.
After that, we've all seen and heard more than our fair share of "What do you mean?" and "Sorry" and as the actual full album dropped with the very smart move to release a video for each individual track, I remember almost crying out of sheer misery when I read the world had come to an end when Justin broke an old Beatles record for most simultaneous songs in Billboards Hot 100 charts.
However, for most of the above mentioned hits from the album, one has to be able to appreciate good production and be into this type of catchy, dance- and electronic vibed pop music. With "Love Yourself" tough, he's managed to speak to the more acoustic-minded music lovers too.
Co-written (or completely written? stays a little vague for me) by our beloved ginger hit-creator Ed Sheeran, this minimalistic, singer-songwriter-like track was actually one of the first that really grabbed my attention in this new Bieber era. Finally a song that… well what can I say, is actually just a very well written. An awesome track just waiting to be made into a piano tutorial, right?
As mentioned in the video as well, the original is super minimalistic, with just (I suppose Ed's) stripped down, smooth guitar part carrying Justin's Vocals, which are then dubbed with an octave above the main melody in the chorusses by Ed himself.
This minimalism makes it a perfect track to translate yet another guitar part to the piano, like I've done so many times before (for example here, here, here and also with a previous Ed Sheeran track), whilst keeping it very comprehensive and tangible, allowing you to easily compare to the original and hear for yourself how the copied part in the piano tutorial takes its form from the original guitar, without getting distracted by other instruments.
In the piano tutorial video below, I'll show you the exact part Ed plays on the guitar, which also happens to be the most stripped down version of the song's chord progression possible.
After that I'll build it up to fuller chord voicings, to both make you understand where the notes come from and in conjunction enable you to fill it up to as full- and more pianistic of a version as you please.
Suited for beginner-advanced, without further ado: have fun with Justin Bieber's "Love Yourself" Piano Tutorial.
Sheets below the video.
Cheers, Coen.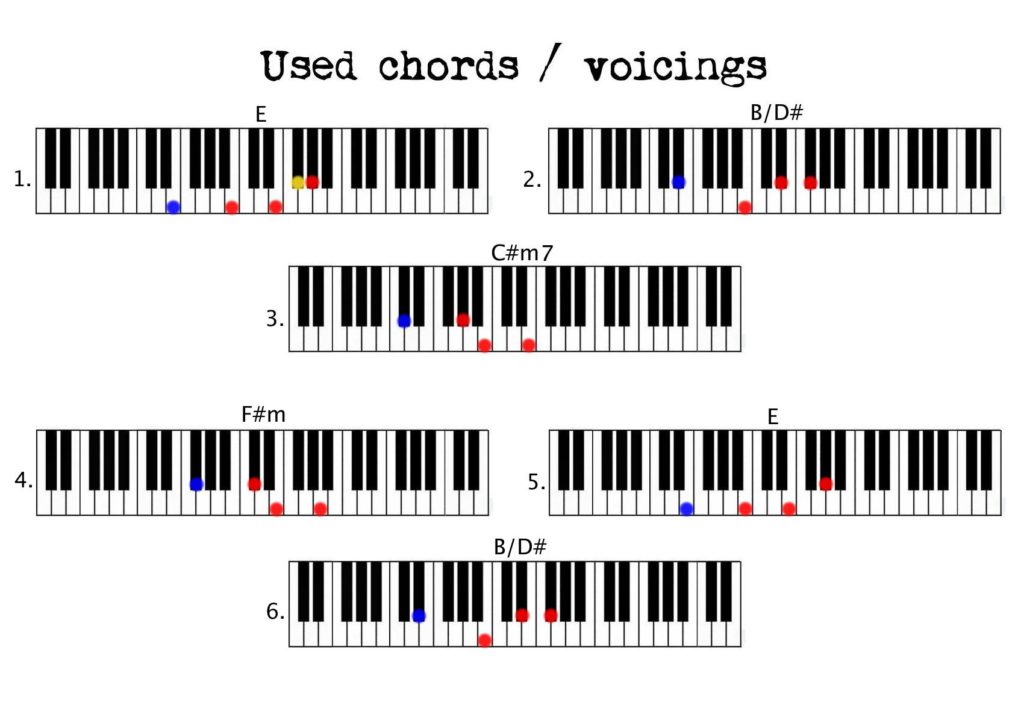 VERSE


PRE-CHORUS


CHORUS


SOLO

Like this Article? Please Share!